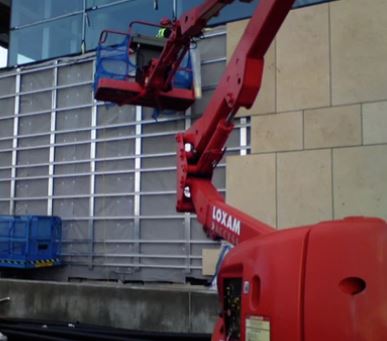 Two Main Natural Stone Cladding Types
Stone Cladding Types:
The two main types of anchoring back stone in the construction of large buildings is either: 1) traditional handset (also known as "ashlar"), where the stone pieces are held back by fixings and applied in courses, or: 2) rainscreen, where the stone is positioned on a metal railing system. The design choices for anchoring can be determined by the style and use of the building.
Handset / Ashlar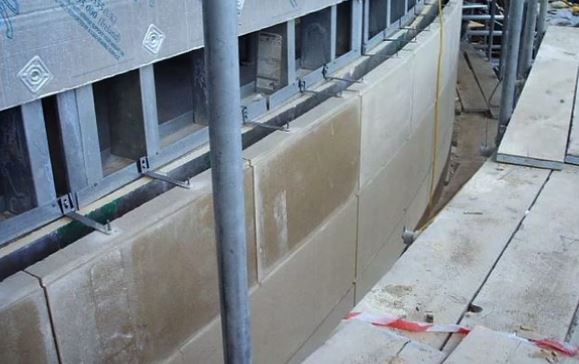 Traditional handfixing the stone is still the most common use in cladding, particularly in the North of England and Scotland. The stone is held back by restraint fixings with horizontal load bearing being situated every floor or every other as determined by a specialist structural engineer. The load bearing fixing can be anchored with a pistol back rebate to the bed of the stone cladding. It takes a specialist fixing team to apply dowel pins to each stone piece anchored to SFS or block substrate.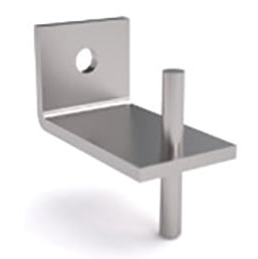 Dowel pins such as the one illustrated here serve to hold back an entire floor level before horizontal is needed. Pin holes are usually drilled on site by the fixing team. The joints between courses can either be left as expansion gaps or filled with a matching stone mortar grout.
In estimating cost for a project with handset consideration should be given to supply of the natural stone, cut, dressed and sent to site, and also anchoring pieces and the fixing fee of a specialist stone subcontractor.
Rainscreen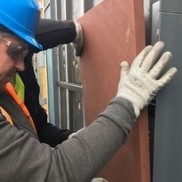 A natural stone rainscreen system is a means of cladding by which stone panels are supported on a steel or aluminum frame. Such a frame consists of helping hand with vertical supports and horizontal "T" bar the stone is pinned back by.
These systems have stronger pull-out load bearing capabilities such that the stone panels can be thinner than their handset equivalents; where handset tends to be 50-100mm thick, rainscreen stone panels tend to be 20-30mm thick.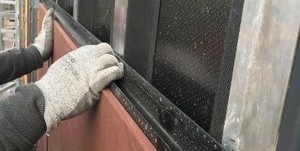 The advantages of the rainscreen are in ease of application and simplicity of loadbearing; each course is independent – compared to handset that needs horizontal supports to each new floor level. The disadvantages of rainscreen is the necessity of procuring the rail, usually at an equivalent to the thinner stone cost, the saving tends to be on the application labour. Handset is still the only way to go for complicated designs with quions or radius features.