Architect :
Bond Bryan Architects
Contractor :
BAM Construction
Subcontracting
Stone Fixer :
Phoenix Brickwork
Technical
Drawing :
API Stone
Stone Type :
API Laguna Limestone
Description of project
Barnsley Sixth Form College new build is a contemporary design by Bond Bryan Architects which utilises the traditional appeal of natural stone alongside a modern stylisation. API supplied the subcontracting fixers PMJ Masonry, an outstanding team, based in York, the project was valued at £12M and completed in 2016.
The stone we supplied is API Laguna, our unique Spanish Limestone, a creamy white with shells and mineral content. The stone type can be compared to a Portland whitbed for both shade and mineralling. The cuts and application are in traditional 50mm ashlar, in three course heights, each piece is anchored by dowels.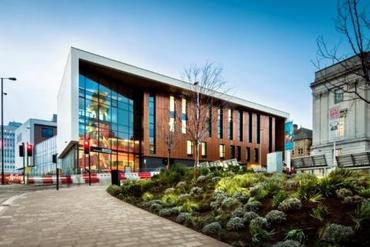 Pheonix Brickwork were sub-contracted by BAM to do all of the façade detail of both brick and natural stone elements of the scheme.
The design team and clients were looking for a natural stone of high quality that came in under budget, and we were able to help by offering API Laguna.
Barnsley Sixth Form College and Construction Centre was awarded the 'Best Educational Project' and the 'Best Commercial Project over £1million' at the South Yorkshire and Humberside LABC Building Excellence Awards for 2016.