Developer :
CityBlock
Project :
Student Accommodation
General
Contractor :
Trojan
Stone Type :
API Beige
Stone Cut :
Ashlar/Handset & Split Face Walling
Description of project
API has been pleased to be involved in the excellent student accommodation project by CityBlock in Lancaster.
CityBlock, a full service provider in the development and management of award-winning student accommodation in the UK, completed the build of its latest development on time, despite the main contractor going into administration midway through the project.
Situated on Penny Street, the main gateway into Lancaster city centre, and designed by SSHARC, the new development, worth £7 million, is CityBlock's first completion since handing over management of their three other developments in Lancaster in May.
The building, which had previously been a carpet shop, car showroom, petrol station and snooker hall required significant redevelopment, so was demolished to make way for the new landmark.
However, mid-way through the construction phase, main contractor, Titan, went into administration, leaving the development only partially complete, and CityBlock considering postponing the opening to next year. CityBlock sourced additional support from their suppliers, as well as the expertise of its in-house team, to ensure completion of the development.
In this unique instance, since the loss of Titan, API Stone supplied all of the API Beige ashlar/handset directly to the developer CityBlock, and not through the ordinary channels of contractor or subcontractor. We were pleased to be able to help out and the team at CityBlock were great to work with.
Since completion, the property, on a main throughway in the centre of Lancaster, has achieved ANUK accreditation, highlighting the building as an example of best practice in student accommodation development.
CityBlock's Development Director, Martin Crews, has said:
"In the current climate, it is not unheard of for a contractor to go into administration mid-way through a project, meaning a partially completed development is left to rot. We have 15 years' experience in developing PBSA and understand all aspects of a project, from design through to completion, so had been prepared for every eventuality. Our experience in developing high quality student accommodation developments has led to this latest development achieving the sought after ANUK accreditation, a national accreditation recognised by the National Union of Students, benchmarking building safety, standards and management."
"The entire CityBlock team worked incredibly hard to ensure we would not disappoint our students, with our office-based team not being too shy to pick up a paintbrush or search for local contractors that could assist. Working together, we were able to turn around the project, allowing students to move in on time, maintaining our 100 per cent track record."
Residents, who began moving in throughout September to mark the start of the new academic year, will benefit from four different room types to suit all budgets, 100MB Wi-Fi, weekly cleaning and on-site maintenance, ensuring the building stays in peak condition throughout the duration of their stay. The development has 24 hour security, further reassuring students. Inside the building, fully equipped communal areas allow students to socialise, creating a home away from home.
CityBlock is well known for taking tired and disused buildings within cities and redeveloping them into assets, to both students and the wider community. CityBlock developments often house commercial outlets on their ground floor, increasing shops and job opportunities within the city.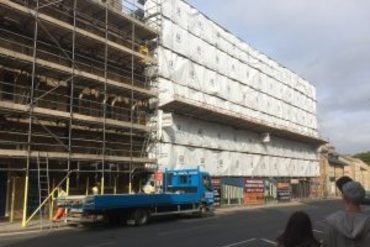 Martin continued:
"We have always had developments within Lancaster and earlier this year handed over the ownership and management of three buildings to Empiric Student Property. This has allowed us to plough more investment into the city, improving the facilities for both students, and residents of Lancaster.""When designing our developments, we ask students what they want, and what would benefit them practically. This extensive research was applied to the design of CityBlock Penny Street, which now acts as a showcase for the future of student accommodation."
We are also pleased to see CityBlock have secured planning permission for the next block on the other corner of Penny Street with work planned to commence in 2019, and we look forward to working with their fantastic team again.