Developer :
Regents Godiva Ltd
Architect :
Lewis and Hickey
General
Contractor :
Galliford Try
Stone Fixer :
Speedclad
Stone Type :
API St Bees
Stone Cut :
Rainscreen Cladding
Description of project
Opening in September 2018, Godiva Place is a large student accommodation block in the centre of Coventry just five minutes from the University right next to a large supermarket and shopping centre. It boasts 800 student rooms comprising of suites, twudios and en suite bedrooms.
In addition, the scheme will provide ancillary support facilities, social hub, car parking, landscaping and improvements to the public realm. The design, by Lewis & Hickey, combines a perimeter block to provide a defined street edge and protect the interior of the site, with a series of finger blocks to maximise daylight into and through the site. Works started in the summer of 2016 and has involved over 800 operatives.
The Architect was Lewis and Hickey, a large multi office award winning practice, established for over a century, one of their areas of expertise is Student Living.
The main contractor was Galliford Try, a FTSE 250 business and one of the UK's leading housebuilding, regeneration and construction groups with revenues of £2.8 billion.
The stone anchoring design and fixing contract was won by Speedclad out of Birmingham, a leading façade subcontractor in the midlands.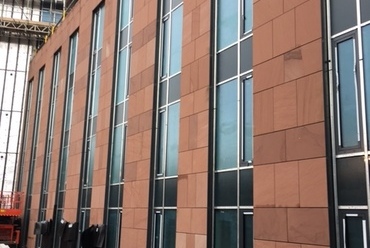 API Stone supplied Speedclad with API St Bees red sandstone alongside EH Smith Facades rainscreen system. The rainscreen stainless steel system is able to anchor back 30mm cut slabs of natural stone with a cut kerf groove and mesh back for strengthening. The rainscreen system consists of three main parts; helping hand, vertical support and T-bar horizontal rail. The horizontals are fitted to match the course height of the specified design of the stone pieces, it has to all segue perfectly. Godiva Place been our largest project to date working with EH Smith, we are pleased to be able to offer rainscreen options to architects and developers as a viable alternative to traditional ashlar/handset.
To learn more see our blog post on the difference between handset and rainscreen.