Developer :
LuLu Group
Architect :
EPR Architects Ltd
General
Contractor :
Galliard Homes
Stone Type :
API Portland
Perryfield Whitbed
Stone Cut :
Traditional Detailing
Description of project
The former Great Scotland Yard is undergoing a complete interior transformation from the old Metropolitan Police headquarters into a five star 110-room luxury hotel. In 2015 Galliard Homes sold Great Scotland Yard to the Abu-Dhabi based LuLu Group who will take full ownership once Galliard Construction has completed the project. The owner of the LuLu group is Indian billionaire Yusuffali Kader.
Galliard Homes says that "The Great Scotland Yard Hotel will be a brand synonymous with exceptional service and refined luxury and quality." So far there has been a refurbishment budget of £50 million invested into the project. This is intended to be one of the city's best luxury hotels. The Steigenberger Hotel Group will be taking on the running of the hotel once it is open, to give on idea of the size they anticipate it will take a staff of 250 to run the hotel on a daily basis.
The original Edwardian façade has undergone a facelift with a seventh storey extension featuring traditional stone detailing to match the existing, Galliard have also dug out a two storey basement and extended out the back.
API Stone has supplied API Portland Perryfield Whitbed for string course, cornice, plinth and full ornate door surrounds.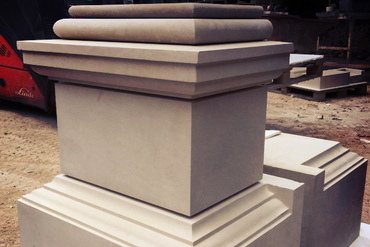 The stone came to us in block from Portland Stone Firms, one of the two extraction firms on the island of Portland, and our expert masons did all of the finishing at our yard in Huddersfield before being delivered to site. Due to the unique tightness of the site and the proximity of the road all the stone was lifted up by hand on a pulley to the new seventh floor, an unenviable task.
Our role in the project has been in coordinating between the design team of the architects at EPR and contracts team at Galliard. Together we have been able to see the development move forward from initial drafting phase and stone choice specification through to masonry and fixing on site. See further details in this Telegraph feature.