Project :
Private Residence
Technical
Drawing :
API Stone
Stone Type :
API Vein
Stone Cuts :
Honed Ashlar and
Traditional Detailing
Description of project
This super prime real estate build project is located in Hale, one of the wealthiest towns of Greater Manchester. Between Hale and Wilmlsow this area has some of the most expensive real estate outside of London.
Our project uses API Vein, from the same Spanish quarry as API Beige, this bed shows colouration from the movement of water during early formation of the geological structure of the stone. There are distinct orange and red marbling throughout the stone creating a natural varigation in both the ashlar under the bay windows and around the entrance porch, and the detailing sections around the windows and doors.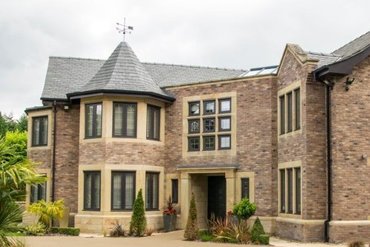 Window surrounds to jams and mullions feature subtle chamfer cuts to create a distinct traditional look.
The client has been delighted with our work and the final completed look. We were happy to help out. Perhaps you have something similar in mind and would like to see some samples for your own project, give us a ring and we can organize a visit.