Developer :
Paramount Hotels
Architect :
HLP
General
Contractor :
Russel Construction
Stone Type :
API Beige
Stone Cut :
Walling, Honed Ashlar, Detailing
Description of project
Harrogate Premier Inn is situated in a prime and busy location in the centre of town, and directly linked to the Harrogate International Conference Centre. It is a 107 bedroom, six-storey hotel and had a project value of £5.33M, was completed in 2014 with a "Very Good" BREEAM rating.
API Stone was involved in the technical drawing of all of the stone for the project – aspects of retention and anchoring as well as the numbering of pieces for construction and we consulted the design team on matters of stone choice, knowing VE was key, we suggested our API Beige.
API supplied our Spanish Beige sandstone for the project, from our partner quarry and cutting works in northern Spain. The stone has been featured in Spanish building and architecture for centuries, still being quarried it is now being exported further afield and comes in to the UK exclusively through API.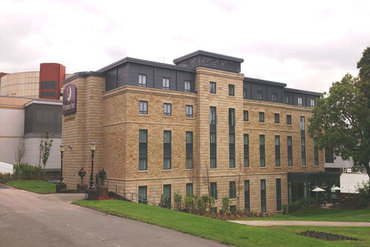 This has been a great showcase for us in and around the West Yorkshire area as the project features all three common types of stone cut popular in the region, walling, ashlar and detailing. The walling consists of 100mm block cut on a guillotine "chopper" – the stone fed through the machine is a rectangular tube-like sausage and the chopper cuts the walling pieces, these are then pitched by hand and loaded on a pallet.
The ashlar, also called handset, are larger honed pieces of 100mm in course, these are traditionally pinned back by dowel restraints to the structure behind, fixed on site.
The stone detailing is all the cills, door heads, copings, all cut to specification and supplied on site to required drawings and expectations.
Harrogate Premier Inn is a strong example of the versatility of API Stone to provide a wide range of different cuts and finishes of natural stone while remaining within a tight budget.