Project :
Private Residence
Technical
Drawing :
API Stone
Stone Type :
API Laguna
Stone Cut :
Traditional Detailing
Description of project
In 2017 API Stone was pleased to be involved in a private residential project in The Bishops Avenue, an exclusive North London street.
The Bishops Avenue is a highly prestigious super prime real estate address, considered as one of the wealthiest streets in the world, and can be compared to a few other international exclusive streets like 5th Avenue Lower Manhattan, Pollocks Path Hong Kong, or Monaco Waterfront. The Bishops Avenue connects the north side of Hampstead Heath to East Finchley – it is often known by the moniker "Billionaires' Row."
Although several of the newer style rebuilds on the avenue have strayed away from a traditional style this project has been more in keeping with the heritage of the location, with large aspects on the elevations to include natural limestone.
For this project API Stone was involved in multiple stages from the beginning through to project hand over. We were with the client early on in stone type choice and consulting on value engineering decision making. We were comparing UK stone types with continental ones. The client was happy to use our API Laguna Spanish Limestone throughout the scheme.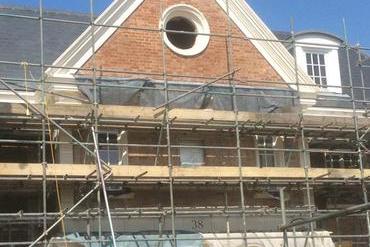 API organized the technical drawing and draftsmanship, unique stone type from near Burgos, and all the secondary cutting and expert masonry.
API supplied plinth, quoins, window and door surrounds, decorative head, portico, cornice and coping all in API Laguna limestone.
API Laguna is a shelly white limestone with variegated mineralling throughout and some small voids. It compares well with a Portland whitbed. With plenty of block on the ground and much more available to be quarried there is a large reserve to cater for any type of project anyone interested may have.
See FT article for more commentary on the address.
Since supplying this project we have also been pleased to be recently involved with an extension just two doors down, also traditional detailing in API Laguna Spanish limestone.